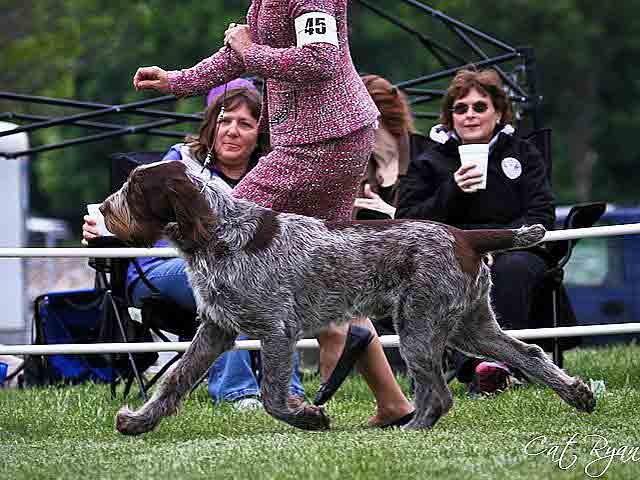 Bruno
BISS GCH Bellebravo Bruno MH
2012 Spinone Club of America Parent Speciality Best in Speciality BISS winner
2013 Spinone Club of America Parent Speciality Best of Opposite
AKC Grand Champion
AKC Master Hunter May
Multiple Group Placings
Awarded Rufus Cup by Spinone Club of America
Recognized by AKC for achievement level of Grand Champion Bronze
Bruno was awarded the Rufus Cup by the Spinone Club of America in 2013 presented to the Spinone demonstrating exceptional performance in the field and conformation ring. Few spinone have achieved both Master Hunter and Grand Champion titles, fewer yet also awarded Best in Speciality followed by Best of Opposite in Speciality. Bruno, Lucy's son, is a prime example of the word "Robust" for Spinone breed type. Bruno exemplifies the field and conformation qualities prized in our breed.
Bruno is a proven sire of multiple litters, he recently became a grandsire. Bruno's puppies have earned conformation championships, natural ability awards and AKC hunt titles. He is available at stud to approved bitches.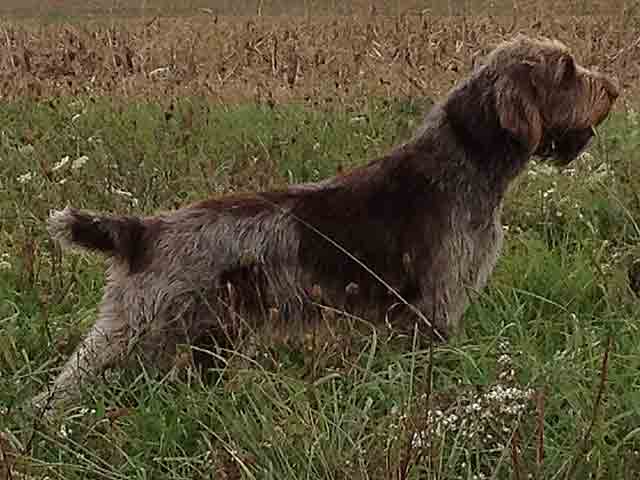 Maggie
CH Bella Margherita Di Morghengo MH – NAVHDA VC
North American Versatile Hunting Dog (NAVHDA) Versatile Champion
AKC Master Hunter
AKC Conformation Champion
National Ameuter Walking Gun Dog runner-up  2013 Spinone Club of America
Awarded Kemo Cup in 2014 by Spinone Club of America
Awarded VC Cup in 2014 by Spinone Club of America
Award of Merit and Best Veteran at 2015 Spione Club of America National Speciality
Maggie was the only Spinone in 2013 to earn the coveted NAVHDA Versatile Champion title. She is the ninth spinoni to be award a VC. Maggie completed the requirements of the AKC Master Hunter title. She was runner-up in the Spinone Club of America Field Trial Amateur Walking Gun Dog stake at 2013 SCOA Nationals. Maggie also placed third in an all breed field trial Amateur Gun Dog state, at the Southern Michigan Weimaraner Club on May 18, 2013. Maggie's breadth of accomplishments in NAVHDA, AKC hunt tests, and AKC field trials were unmatched in the breed for 2013. Maggie is also an AKC conformation Champion. Maggie has produced get that have qualified for the NAVHDA Invitational as well as AKC Eukanuba National Championship.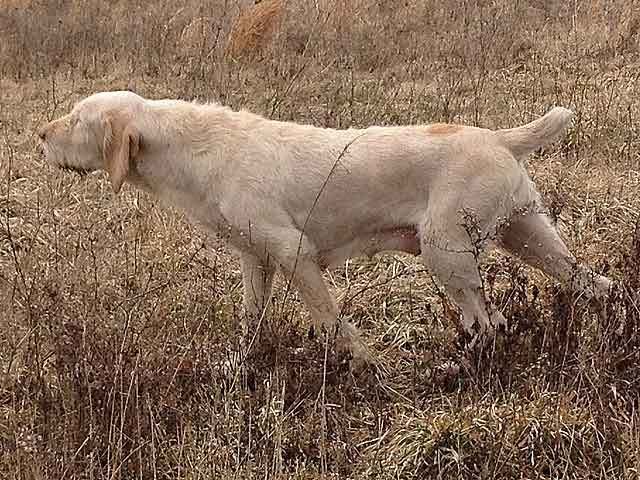 Annie
CH Bellaebravo Dicianna MH
National Open Walking Gun Dog Champion 2013 Spinone Cub of America
AKC Master Hunter
AKC conformation champion
Annie is our breeding, 2008 litter out of our Lucy and Guido's Dino, she is a hard working field dog. Annie is also Bruno's littermate. After her show championship & Master Hunter titles, Annie became a mother of 13 pups. She passed on her lovely breed type and hunting skills to her children and grandchildren. Annie has produced a NAVHDA Invitational and Eukanuba qualifiers.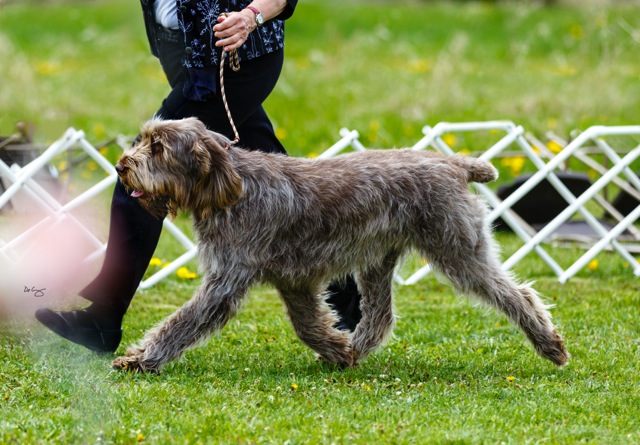 Flora
GCH Busy B's BellaeBravo Millefiori
AKC conformation grand champion
NAVHDA Prize 2 in Natural Ability
Michigan Sporting Dog Association Best of Breed
Was ranked #4 in Breed Standings
3 legs towards her AKC Junior Hunter Title
Flora, Bruno's daughter, is a versatile girl. She has delved in, Agility, Obedience, Rally and AKC Hunt tests. Currently Flora is delaying her various titles to pursue motherhood.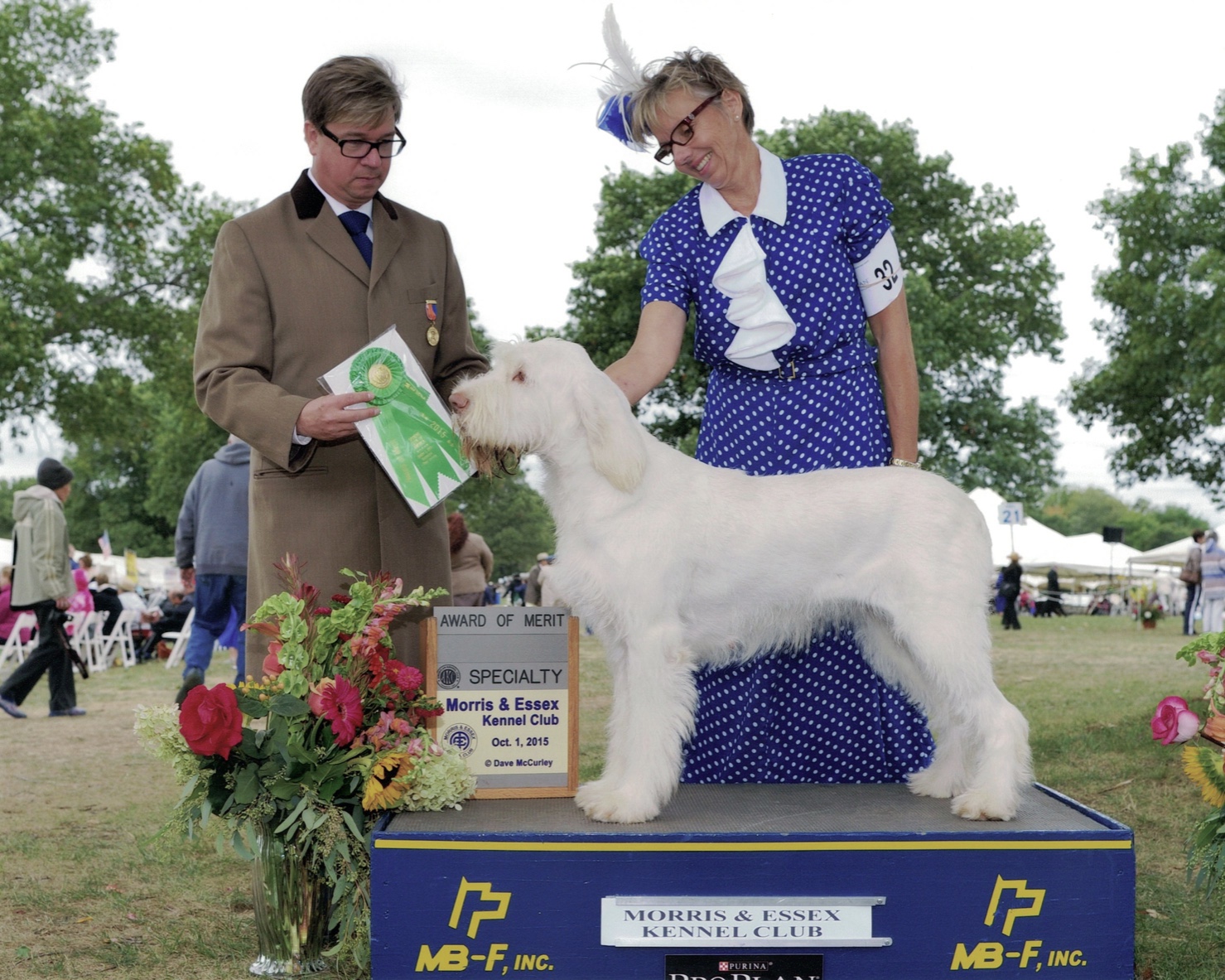 Lela
GCH BellaeBravo Absolute Passion
AKC Conformation Grand Champion by 17 months
Puppy Best in Show
Bred By Exhibitor Best in Show
Award of Merit SCOA Parent Speciality at 2015 National Specialty
Qualified for Eukanuba and NOHS Championship
Ranked in Top 20 Spinoni
Ranked in Top 10 Owner Handler Series
Owner Handler Best in Show
Multiple Bred By Exhibitor Group placements
Multiple Owner Handler Group placements
Multiple All Breed Group placements
Lela is very successful in the show ring. She is an Anne x Iba puppy. She exemplifies the unique "almost human" expression of our wonderful breed. Lela is reminiscent of so many of the dogs in her pedigree. She is "duck" crazy. She is just getting started in her field work.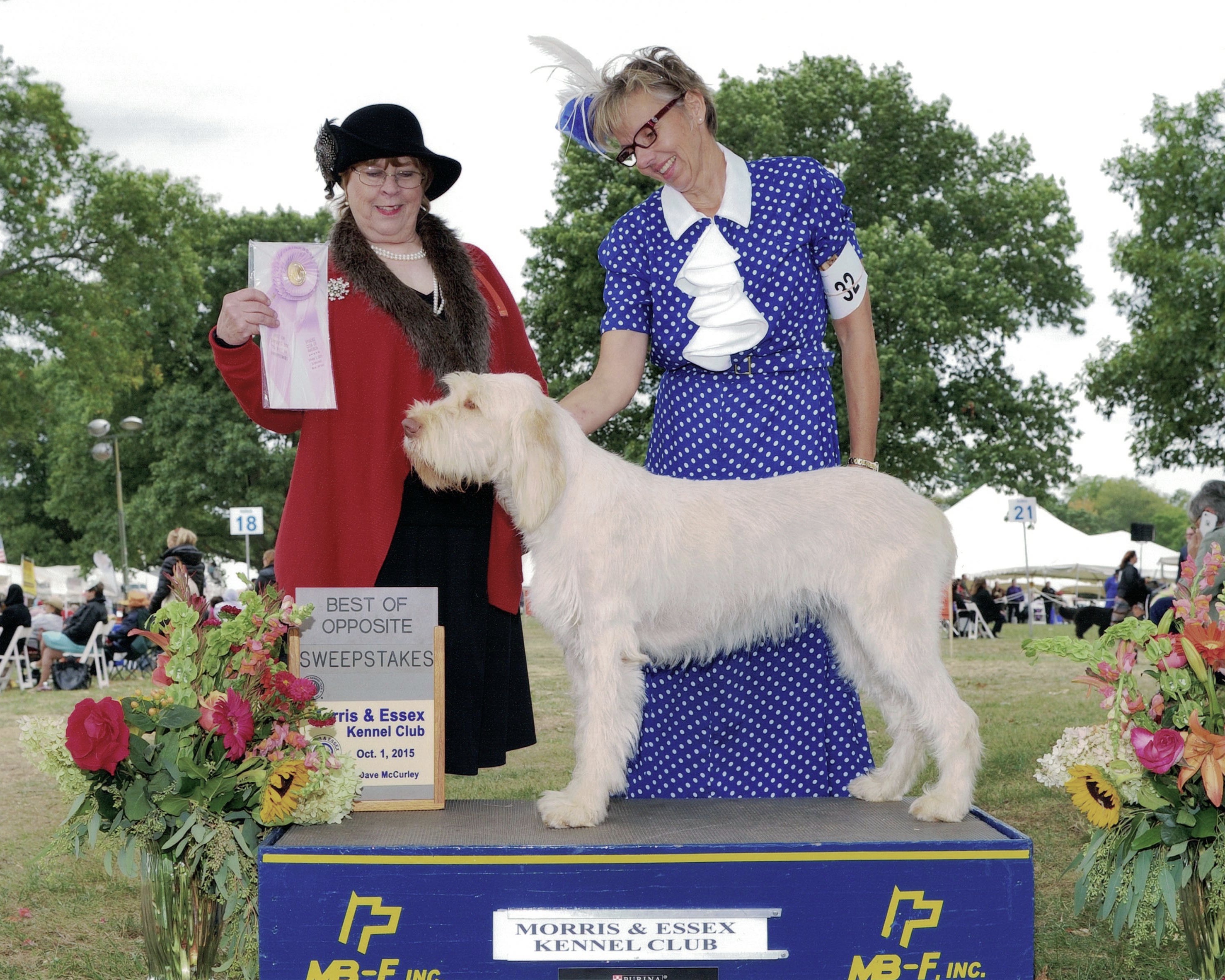 Zita
CH BellaeBravo Lasting Impression
AKC Conformation Champion
Best of Opposite Sweepstakes at Morris Essex Regional Specialty
Zita, Maggie's daughter, debuded in the show ring at 6 months old earning 13 points and going Best of Breed over specials. She finished her championship by 15 months consistently showing off her functional, effortless movement. Zita will now focus on finding herself in the field and following in her mom and big sis's footsteps.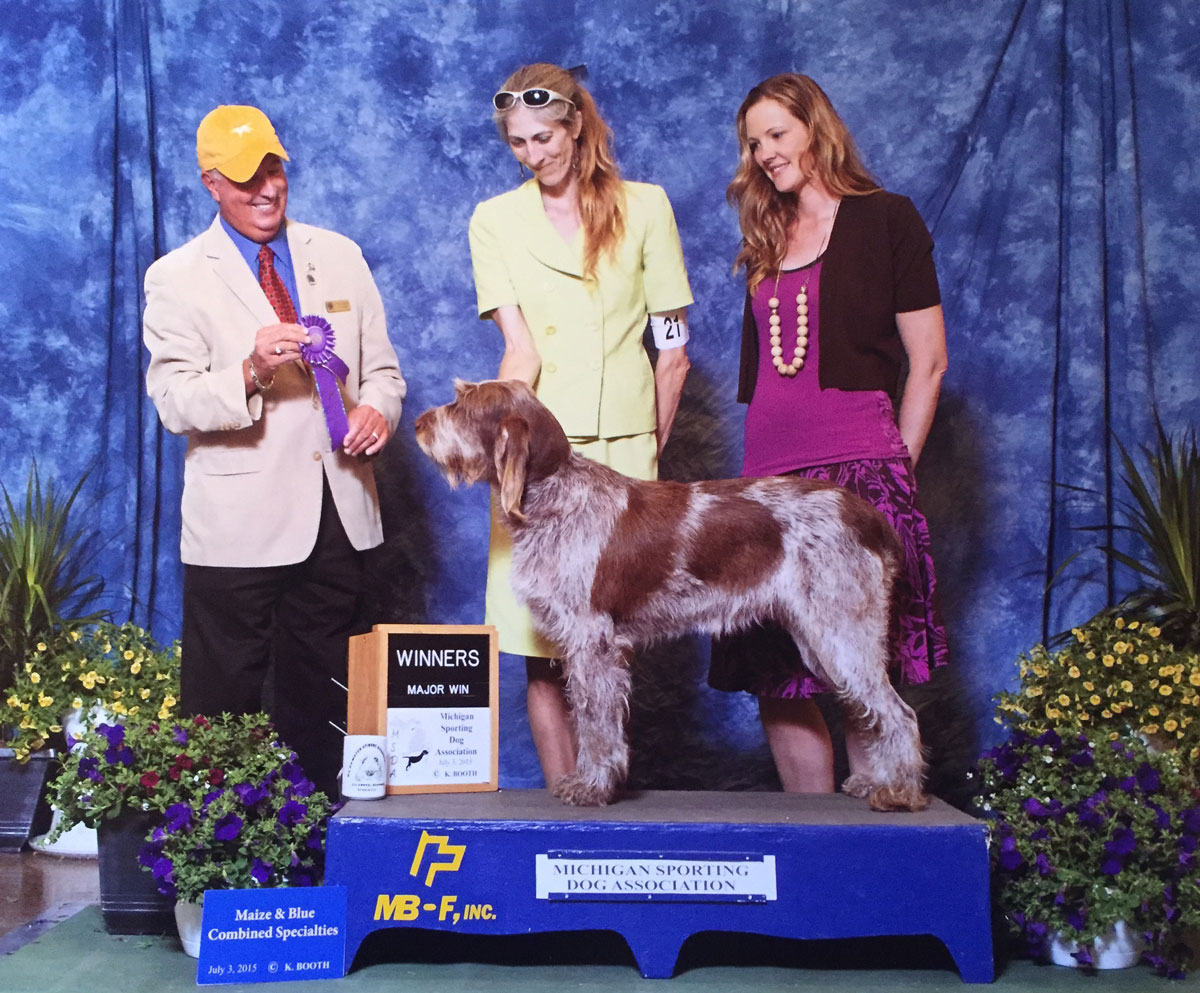 Tessi
CH Bellaebravo Tootsie Roll
Prize 1 Natural Ability Test NAVHDA (North American Versatile Hunting Dog Association)
Prize 2 Utility NAVHDA (North American Versatile Hunting Dog Association)
Senior Hunter AKC Performance: 2 tests into her Senior Title
2015 SCOA National Specialty Best Puppy at sweepstakes

Group 1 Black Swamp Gundog Puppy Match
Tessi exudes what a Spinone is all about. She is a social butterfly with a sweet temperment and a natural in the field. She finished her show championship at 17 months. Her natural ability in the field comes from both dam and sire being the first breeding of NAVHDA VC's in the states. Her field training is well under way, she has achieved a Prize 1 in NAVHDA Natural Ability, Prize 2 in NAVHDA Utility, and on her way to her AKC Senior Hunt title.
Sire CH Bella Campo Winter Jack's Frost. Dam CH Bella Margherita de Morghengo MH – NAVHDA VC. Tessi x Doc puppies expected March 2020. Bred by Jason and Haley Wilkins.